Pleasant TIMBER MART Celebrates 20th Anniversary
This year, Pleasant TIMBER MART is celebrating its 20th Anniversary, and we were excited to help them make it a year to remember! With an ongoing relationship with TIMBER MART that dates back over 30 years, we are experts in their branding and marketing. We collaborated with the Pleasant TIMBER MART team to strategically and effectively implement marketing efforts on various initiatives.
Website & Logo

Our design team created a celebratory logo emphasizing their milestone anniversary. We also built a website with a personalized homepage and landing pages that included all of the things 
Pleasant TIMBER MART has to offer its local community! The 'About Us' section provides an overview of their team, their long history, and their involvement in the Yar
mouth community.
Additionally, our copywriters created meaningful descriptions of Pleasant's various departments and services, so customers know what to expect in-store. We also linked to other TIMBER MART resources, such as the Project of the Month website, Building Plans, and Project Tips on the corporate website.
20th Anniversary Yard Sale
Pleasant TIMBER MART holds an annual yard sale to thank their local customers for their continued support. In celebration of this year's milestone achievement, we helped them take the Annual Yard Sale to the next level. 
Partnership Program
We started by creating their 20th Anniversary Partnership Program. Working with the team at Pleasant, we listed marketing opportunities for vendors to showcase their products during the spring celebration event. With a three-tiered sponsorship system, partners could be featured in promotional materials, flyers, social media, and other marketing materials, depending on their commitment level. Not only did this aid in funding the 20th Anniversary celebration, but it also opened the door for new relationships between vendors and Pleasant TIMBER MART.
Contests
In addition to the partnered sponsorships, we helped develop three contests for customers to have the chance to win; 20,000 AIR MILES® Reward Miles™, $2,000 in Kaycan Siding or $2,000 TIMBER MART Gift Card (to be used at Pleasant TIMBER MART). 
We worked closely with the teams at TIMBER MART and AIR MILES to coordinate the AIR MILES contest prize in exchange for ensured support across all channels. For each contest, our team handled the creation of the contest rules, release forms, ballots and ballot box design. The winners were just as excited to win the contest as we were to be a part of their creation and execution!
Flyer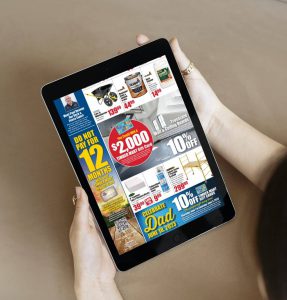 For the event, we worked with the team at Pleasant TIMBER MART to create a customized 4-page broadsheet flyer that focused on featuring vendor partners, exclusive deals and truckload sales, charitable BBQ, and more. The flyer was printed and published digitally on Flipp and Reebee to maximize accessibility and reach. Our team then created in-store signage, such as posters and in-store price cards, to complement the flyer. 
Digital & Social Media
To get the word out about the Yard Sale, we created 9 social posts, stories, and carousels to build hype around the Yard Sale and encourage people to attend. These posts we strategically scheduled leading up to and during the event, with 4 key posts being boosted to get maximum exposure. This increased the event's visibility, with the top-performing post receiving over 28,000 impressions. The engagement was significant in promoting the event and their social platforms.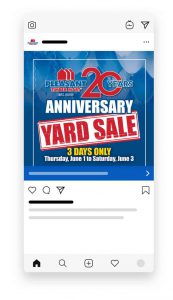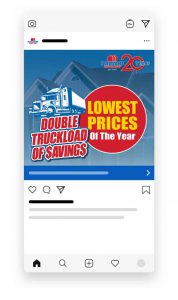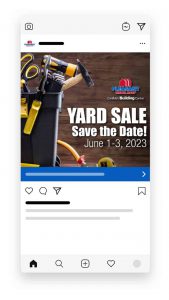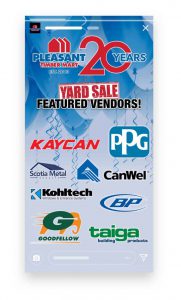 In addition to social, we customized their website homepage and Facebook cover photo detailing important information about the event. This ensured that if organic traffic came to the site, they could see the offers and plan to attend the event.
We were proud to be a part of Pleasant TIMBER MART's 20th Anniversary, and we look forward to the next milestone!