This year at Sims we are embracing all things new. We have been settling into our newly renovated office, steps from our old office. This space offers the team a wonderful environment to express their creativity while providing enough room to collaborate with and serve our clients. Our new website is carefully designed to illustrate this 2020 vision for Sims.
New Office
After over 20 years at our old location, we have grown to 25 full-time employees.  The new office is a sign of our growth and our dedication to evolving with the industry.   With a more substantial design studio, our incredible team of more than 10 talented graphic designers and over six digital staff can work together more efficiently.  The studio space encourages a productive and creative environment for spontaneous brainstorming sessions and innovative thought.
Our team has settled into the new location for a fresh start to 2020.  The spacious offices offer updated technology in a comfortable setting.  We have an open-door policy and encourage our clients to drop by, grab a coffee, and review their campaigns or discuss strategies that will advance their objectives. In the new space, there is ample room for lively conversation.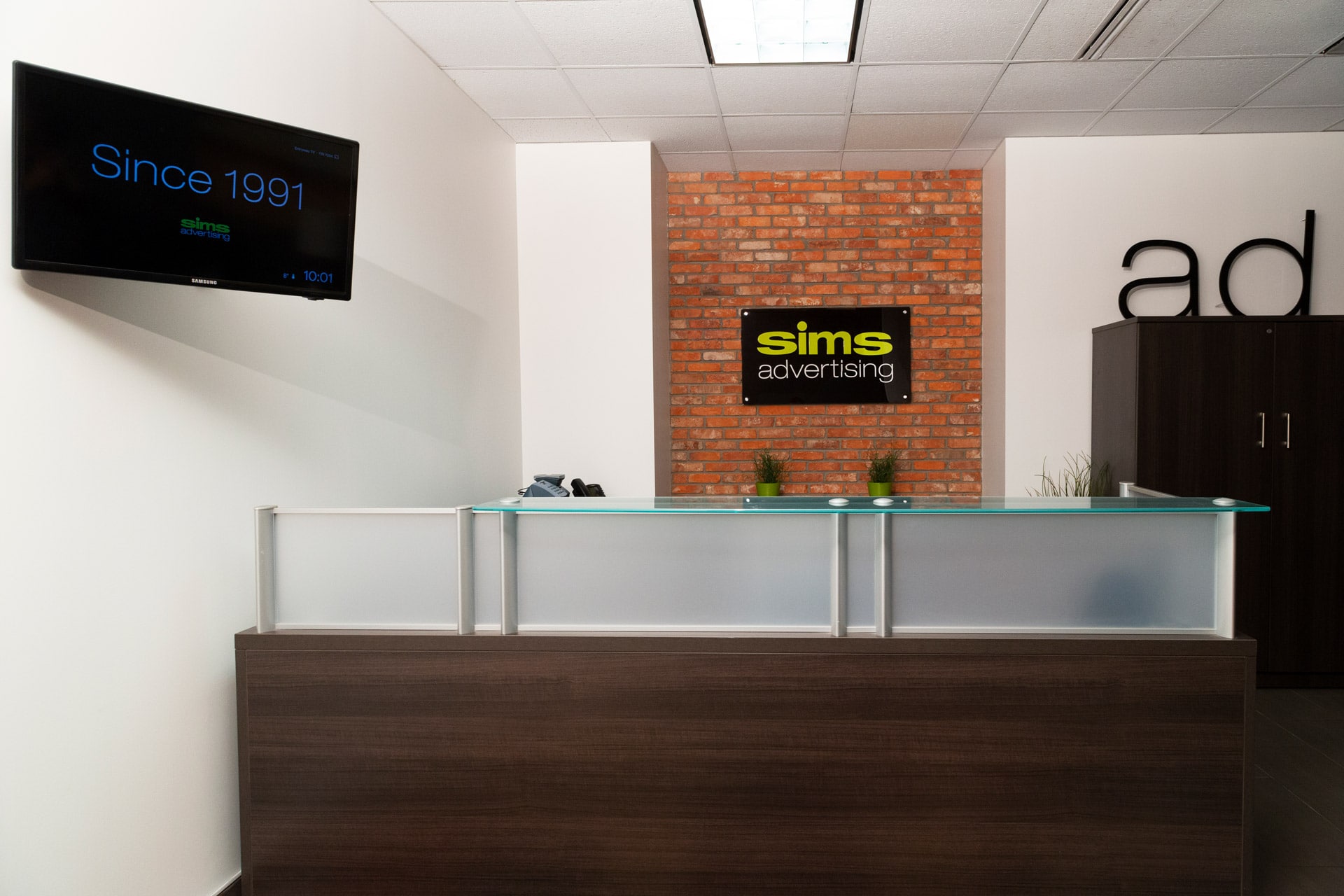 New Website
Along with our newly renovated office, we are giving our website a facelift.  The digital marketing landscape changes so quickly, Sims is dedicated to staying current to provide the best in marketing solutions, both traditional and digital.
The secret to our longevity and success is our love of strategy!  We believe a campaign has to begin with the end in mind. When you work towards a common goal that will deliver exceptional results, everyone wins.  As our services grow, our method of doing business remains the same. The entire Sims team operates with integrity to nurture long-lasting relationships.  As a valued client, our relationship doesn't stop when the campaign ends; we will continue to communicate and build together.
Same Exceptional Service
Sims has been part of the Hamilton/ Burlington community since the doors opened on Nov 1, 1991.  We work and thrive in this community, supporting our long-standing clients and engaging with new businesses.  Our new space and interactive website bring opportunities for growth and development. With change comes an energy of possibility, and we are excited for all the opportunities 2020 will bring.
Sims Advertising is a full-service marketing agency that provides digital marketing solutions, graphic design, print, broadcast, outdoor, media buying, strategy, planning, social media management, copywriting, and content creation. We service businesses in the Burlington, Hamilton, and Halton region of Ontario.  We encourage you to invest in Sims experience.