Gentek Canada is leading the way with windows and siding. With over 50 years of manufacturing experience, they are experts when it comes to home exteriors. Sims Advertising has worked with Gentek Canada since 2015, supporting them on various projects from emails to powerpoint presentations, POP (signage), booth assets for trade shows, printed pieces and more. 
My Design Home Studio Blog Site
Most recently, Sims redesigned and modernized the Gentek blog site called My Design Home Studio. Since 2013, the My Design Home Studio blog site has played a key role for Gentek Canada to help position themselves as a thought-leader within the home design industry. In 2020, Sims redesigned, improving the layout, navigation and UX of the site. 
The Sims team writes and uploads an average of four blog posts a month, and manages the translation of the blogs to French. The topics are primarily focused on providing tips and trends for external home projects to homeowners across Canada. Upon occasion there are subtle references to Gentek products or services, but the main goal is on providing helpful information on what the reader needs for their home.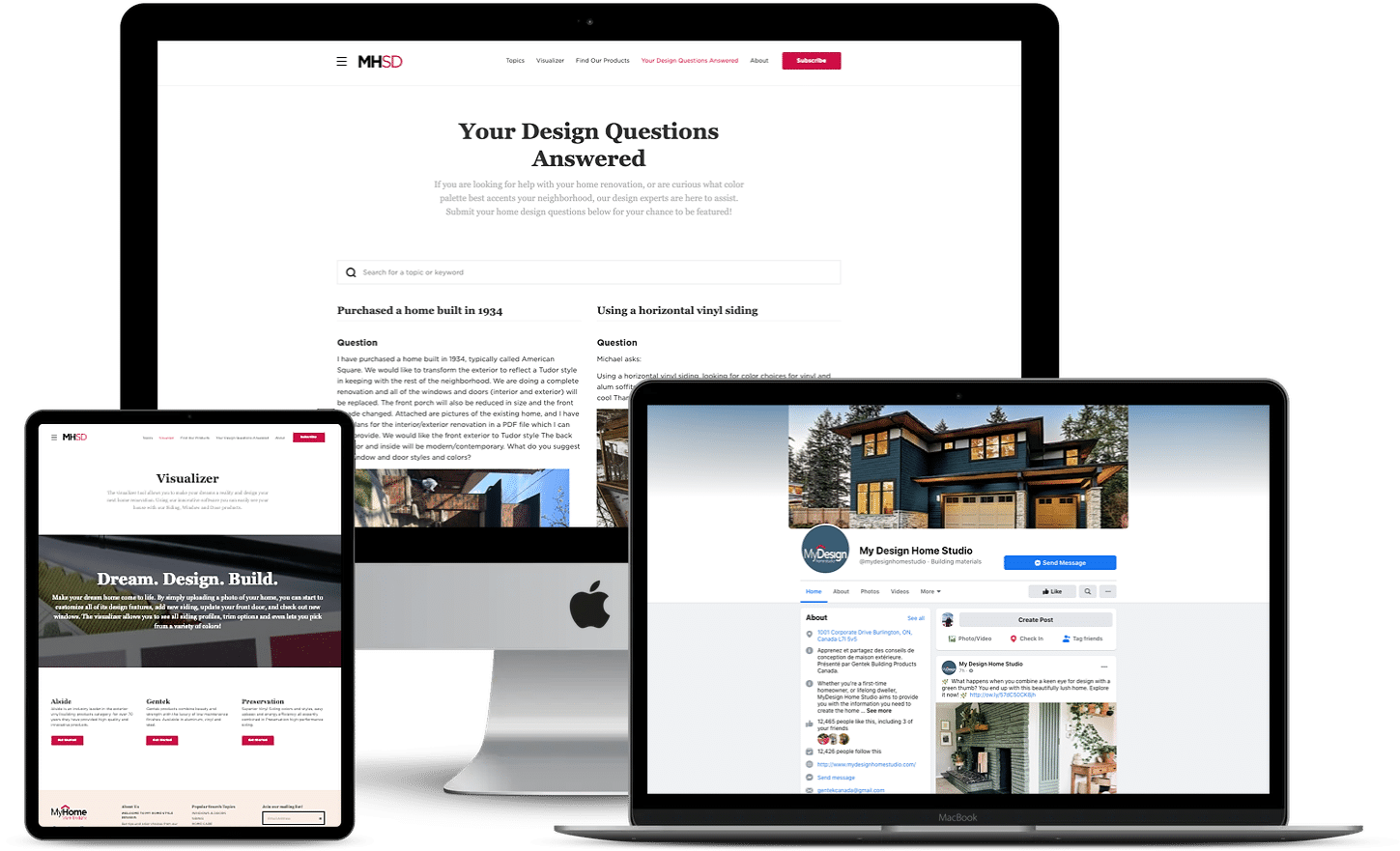 Website Features
Beyond a blog, the site includes a link to the free home visualizer tool, which allows homeowners, renovators and builders to see what their current or new-build home will look like with different siding, windows, roofing and accent options. They can design their own look and combination, or work with a professional designer to get the exact look that they're after. 
The website also has a product finder tool, which helps users find contractors and suppliers near them, and a unique Q&A feature, where the public can submit their design questions. 
Social Media & Project Management
Sims also publishes social media posts regularly on the My Design Home Studio Facebook Page, which currently has over 12,000 followers. The My Design Home Studio Facebook page acts as a way to engage with the community through the My Design Home Studio brand, sharing not only the blog posts from the website, but also other trends, resources and inspirational pieces. 
The entirety of the Gentek Canada My Design Home Studio program works together to support not only Canadian homeowners, designers and builders, but also the Gentek Canada brand, helping them position themselves as a helpful, informative, and supportive brand. 
Digital Expertise
My Design Home Studio is a great example of how careful planning, project management and digital marketing expertise come together at Sims Advertising. The team works closely with Gentek Canada weekly to build and manage this project that represents their brand and positions them as leaders in home exterior products while boosting customer engagement online. 
Contact Sims Advertising today to see how we can increase your digital footprint and strengthen your brand online.