As Canadians, we love cheering on our team – especially when it comes to hockey. The same goes for our long-term client and sponsor of Hockey Canada, TIMBER MART, who decided to run an internal Hockey Pool during the 2021 World Junior Championships, benefiting their Timberkids charitable foundation initiatives. 
With our assistance, TIMBER MART Dealers across the country participated in the internal hockey pool that would see winning Dealers in each region "win" money to be donated to a local children's initiative of their choice. Our challenge was to design and build a central location for this charitable event online in both English and French and incorporate a live-chat function to encourage gentle roasting of the competition, as well as a selection of social media posts for Dealers to use during the championship. 
In 2018, Sims Advertising created an internal platform called TBM.social that provides TIMBER MART Dealers with the ability to log in and access 25 monthly social media posts, 100+ Facebook cover photos and platform guides. The social media posts and content can be easily downloaded and shared on their social media accounts such as Facebook and Instagram, with new content added every month. 
Since this platform was already in place, and frequently used by Dealers to access content, it made sense to host the Timberkids Hockey Pool assets on the site.
In early December, we were approached by TIMBER MART to help execute their concept for an internal Hockey Pool. As a proud sponsor of Hockey Canada for more than 10 years and with the turbulent year Hockey Canada has experienced due to the COVID-19 pandemic, the Timberkids Hockey Pool was a way for TIMBER MART to continue to support Hockey Canada and make an impact in their Dealers' communities. 
The catch? The virtual Dealer meeting where the teams would be drawn would take place the following week. This gave us a one-week timeframe to strategize and execute an interactive landing page with a leader board and chatroom, create posts and supporting content and develop an outreach program to keep the Dealers informed. And, after a quick internal meeting, we got to work. 
Website
The beautifully designed Hockey Pool landing page included a logo created by our team of designers, situated over a looping video of the northern lights, which was a key asset used by Hockey Canada throughout the championship. Quicklink buttons to "view the Hockey Pool details" and "learn more about Timberkids" were placed below some qualifying text introducing the Hockey Pool information. 
Below that, the leaderboard, which was updated daily throughout the campaign, showed the Dealers which region was in what place, based on their paired-teams' previous day's game and statistics. The "First Place" banner was designed to sit half-over the northern lights hero banner to create a modern feel and add a design element. 
A button below the leaderboard linked to a Google sheet that offered further details about how the points were awarded for each team and game. 
We also provided various World Juniors social media posts that the Dealers could download and post on their social media platforms to show their support for Team Canada throughout the championship.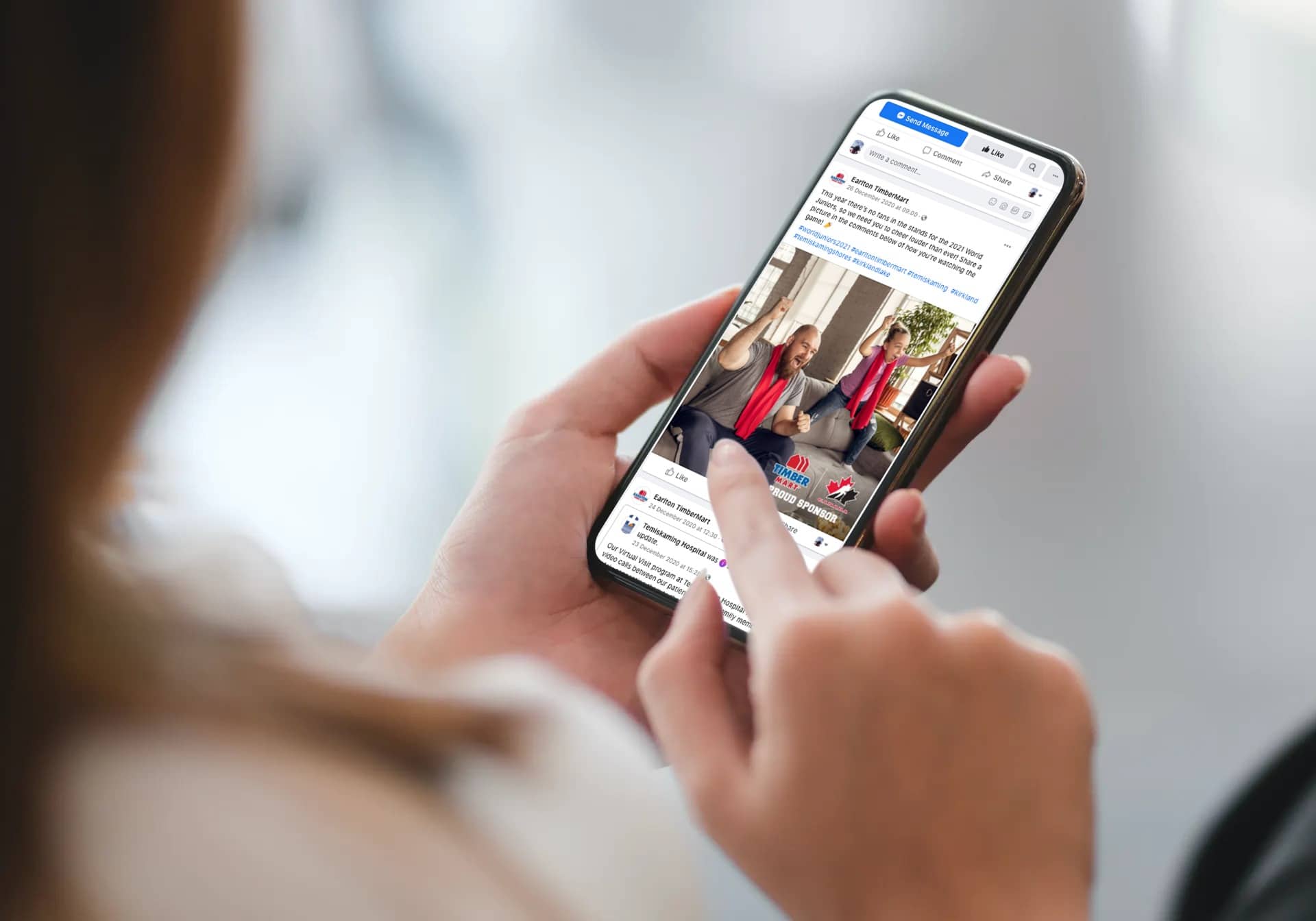 Another key aspect of the page was a live chat room that Dealers could use to banter throughout the championship games and the Hockey Pool tournament. This feature was adjusted to meet brand colours, and allowed them to log in with their name or connect with their Facebook account. 
A special video message for Dealers from Tom Renney, CEO of Hockey Canada, was also featured on the page. This video was made accessible through the click of a button, which opened up the message of thanks in a lightbox (pop up media player). 
The complete Hockey Pool page was developed in English and French, including French versions of the social media posts, and translations of the content. 
We met our goal of launching the site within 5 business days. 
Emails
Starting December 16 – January 12, we sent a total of 15 emails to the Dealers across Canada in both English and French. 
Our initial emails were spaced a few days apart, welcoming Dealers to the campaign, sharing the exclusive Tom Renney video, sharing the TIMBER MART TV commercial, and reminding Dealers to log in daily to see their standings.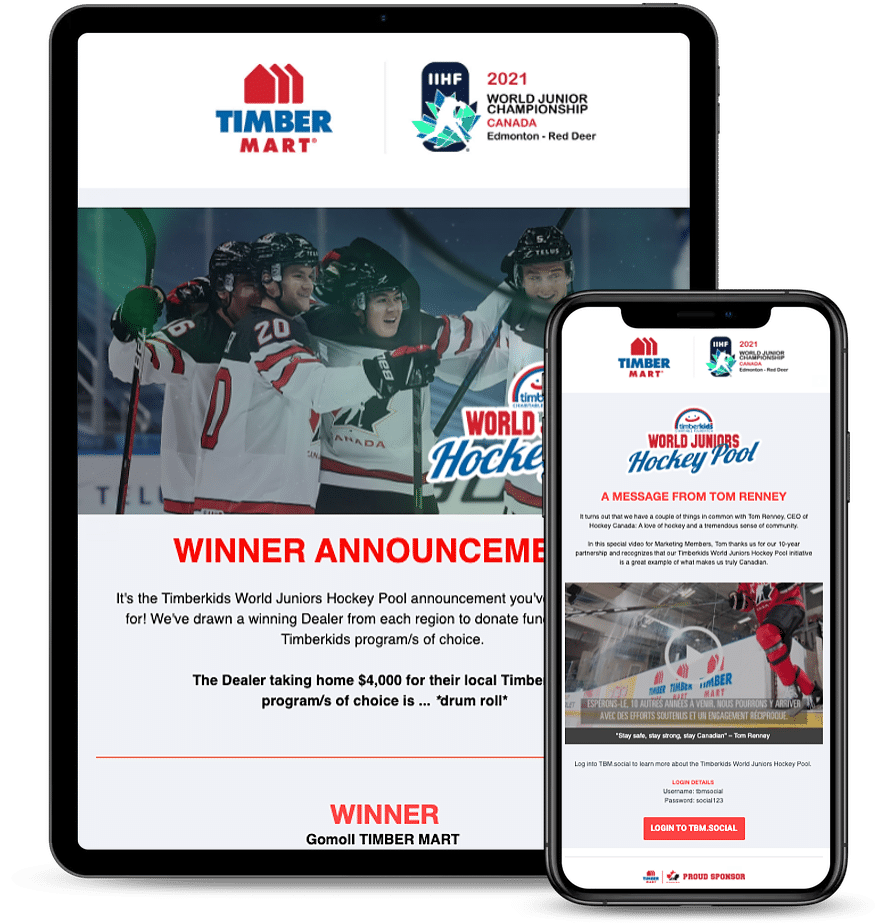 During the championship, we sent daily update emails notifying Dealers that the new scores were updated on the landing page, and invited them to log in to check their standings against the other regions. 
In the final days of the games, we met as a team to determine a final social media post, congratulating Canada on winning silver or gold. We had less than 12 hours (primarily overnight) to receive images from Hockey Canada, design an image, write a caption and send it out to Dealers in an email the next morning. Our team pulled together, and needless to say, we were able to send out the content to the Dealers in record time. 
At the end of the championship, we sent a wrap-up email to the Dealers, letting them know the final regional standings, then a final email announcing the winning Dealers within each region. 
The Timberkids World Juniors Hockey Pool was a great success. We exceeded the expectations of the TIMBER MART team and developed an exquisite campaign that was executed flawlessly. Contact Sims Advertising today to bring your next campaign to life.